For Immediate Release: May 2, 2016
Contact: Lynne Richmond
(609) 610-3526 Cell
(TRENTON) – The New Jersey Department of Agriculture along with New York Jets tight end Adrien Robinson today visited Belleville High School in Belleville to honor the school as one of the "Division Champions" for the New Jersey Department of Agriculture's Jets PLAY 60 "Eat Right, Move More" program.
The Jets PLAY 60 "Eat Right, Move More" program, a partnership between the Jets, the Department of Agriculture, and the American Dairy Association North East, encourages New Jersey school children to take advantage of healthy foods in their school cafeterias and become more active.
"The Jets Play 60 "Eat Right, Move More" program reinforces schools' efforts to teach children to make healthy choices, whether it is eating more fruits and vegetables or getting more exercise," said Rose Tricario, NJDA Division of Food and Nutrition Director.  "We congratulate Belleville High School for providing an environment that provides children with access to nutritious foods and opportunities to be more active."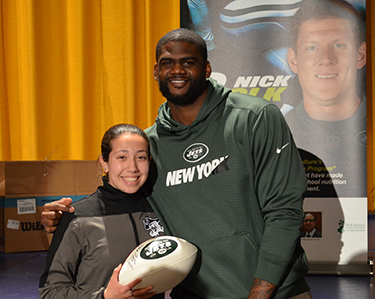 Robinson visited the school for a fun and educational program and presented the school with a $5,000 grant to improve school food service and physical education programs, made possible by the Jets and the American Dairy Association North East.
"Eating healthy food and getting the right amount of exercise was one of the things that helped me get into the NFL," said Robinson. "Sharing the Jets Play 60 "Eat Right, Move More" program with the kids of Belleville High School was a lot of fun."
Schools were judged on their outstanding efforts to provide children with fresh produce, healthy foods, nutrition education and opportunities to increase physical activity. They also were required to have at least 100 students participate in the Jets PLAY 60 Program during which students must log one hour a day of activity for a week.
Belleville High School features Jersey Fresh produce on its "Farm Stand" salad bar in season and participate in Jersey Fresh Farm to School Week. All students can self-select their favorite fruits and vegetables with a "Trip to the Farm Stand" on each lunch line.  The school recently introduced nutritious low-fat yogurt fruit smoothies.  Students also may visit the fresh, made-to-order deli bar featuring deli meats that are 97%-99% fat-free, gluten-free, MSG-free, with no artificial colors or flavors and lower in sodium.
"The research regarding eating healthier throughout the school day and its effect on student achievement is well documented," said Daniel Sanacore, Belleville High School Athletic Director. "The students at Belleville High School are cognizant of the positives of making healthy choices and I'm certain they will absolutely welcome additional healthy options to the menu."
Sanacore said students that participated in the Play 60 portion of the contest were surprised by the results they received and some continued tracking their progress even after the one week was over. He said the school will use the prize money to help update the school's weight room and buy a new frozen yogurt machine.
The school plans to use its prize money to improve their selection of healthy snacks in the cafeteria including air-popped popcorn and encourage students to "move more" by painting a track on their existing bus loop. They also will add a par course throughout the track.
The 2015-2016 "Grand Champion" is Carlstadt Public School in Carstadt, who will receive a $15,000 grant and Jets Program. Two other "Division Champions" are Clara B. Worth School in Berkeley Township, which received its $5,000 prize and Jets visit on April 22, and Jotham W. Wakeman Public School 6 in Jersey City, which will receive their prize and Jets program later this spring.
The New Jersey Department of Agriculture administers the National School Lunch and Breakfast programs, special milk and after-school snack, Summer Food Service Program and Child and Adult Care Food Program. Almost 700,000 children eat lunch at school every day in the Garden State.
About the New York Jets
As a professional football team that plays in New Jersey, the Jets take great pride in a long-standing, year-round commitment to our community. Programs funded by the New York Jets Foundation look to positively influence the lives of young men and women in the tri-state area by promoting fitness, supporting youth football and preventing bullying, particularly in disadvantaged communities.